NOTAM 05-2020 (Brown) 05/14/2020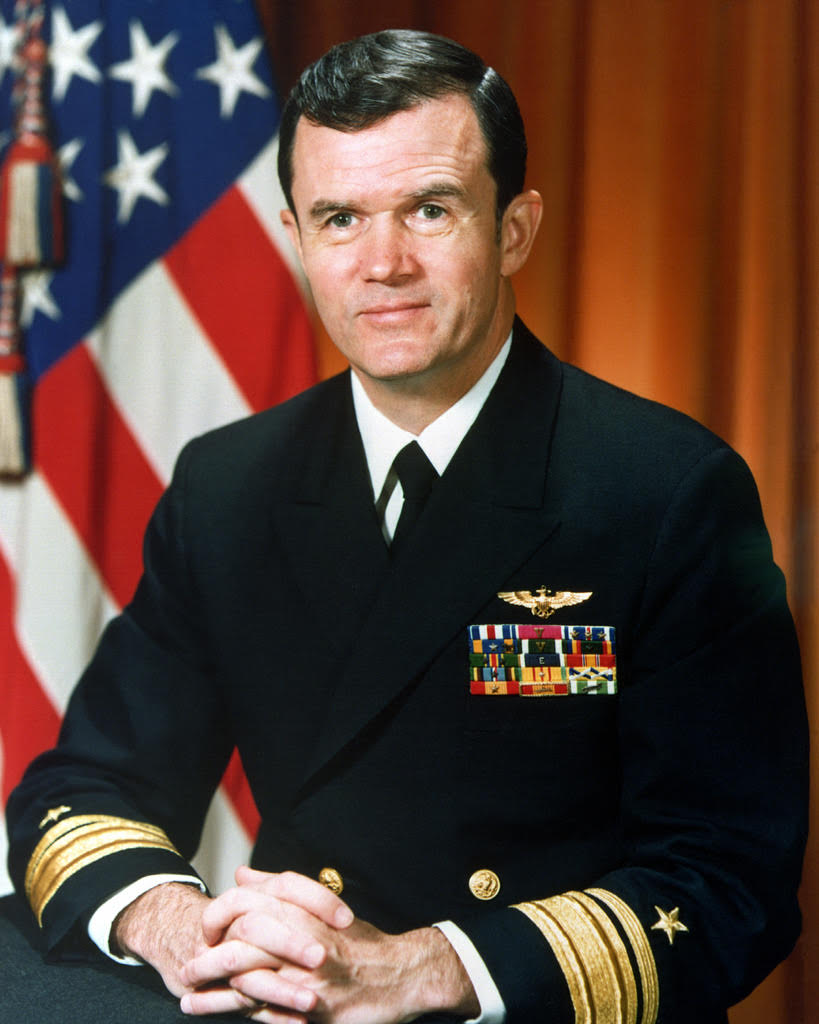 Rear Admiral Thomas F. Brown, III, USN (Ret)
Golden Eagle Emeritus
Gentlemen, it is my sad duty to report that in the pre-dawn hours of 14 May, 2020 Rear Admiral Thomas F. Brown III, USN (Retired) made his Last Take Off in Madera, CA after a long bout with Idiopathic Pulmonary Fibrosis with his wife of 63 years, Marty by his side. Tom was born and raised in Scranton, Pennsylvania on October 23, 1932 to parents Thomas F. Brown, Jr. and Marion Thompson Brown. Growing up on the East Coast, he attended Saint Paul's High School just outside of Baltimore, Maryland.
Tom entered Officer Candidate School in Newport, Rhode Island in September 1954 after graduating from Mount Saint Mary's College in Emmitsburg, Maryland and was commissioned in March, 1955. He began flight school immediately after commissioning at NAS Pensacola, Florida flying the SNJ and TV-2 in Primary and Intermediate flight training. Selected for Jet Advanced Training, he flew the TF-9F-2 at NAS Beeville, Texas, earning his wings of gold on 18 July 1956.
After a four month assignment as Assistant Maintenance Officer at FASRON 10 stationed at NAS Moffett Field, California, Tom joined his first fleet squadron, VA-153 in December, 1956. Embarked in USS Hancock flying the
A4D-1 and A4D-2, he deployed to the Western Pacific, serving as Flight Officer, Line Division Officer and Safety Officer. Along the way, he met Navy Nurse Martha C. Bramer, and in 1957 he and "Marty" were married, highlighting his first tour of sea duty. He transitioned to shore duty as a RAG instructor in March 1960, assigned as Mission Phase Officer in VA-125, still stationed at NAS Moffett Field, instructing in the A4D-1/2/2N.
Tom extended his shore duty to pursue graduate education, attending the University of California, Berkeley from August 1961 to March 1963. In addition to his studies, earning a Master of Arts Degree in Political Science, he was able to remain current, bagging time in the A4D-1 at the Naval Air Reserve Unit based at NAS Alameda, California. Completing his academic pursuits, he attended the University of Southern California Aviation Safety School in Los Angeles, California from March to May 1963, again finding an available cockpit at NAS Alamitos, California flying the A-4A. Before rolling back to the fleet he took a short course as a Fleet Replacement Pilot at VA-125, now flying the
A-4B/C before joining VA-164 embarked in USS Oriskany. He first served as Safety/NATOPS Officer, before assuming his Department Head tour as Maintenance Officer for the squadron's A-4E aircraft. In the brief period of May to August 1965 he flew 100 combat missions in Vietnam during this Western Pacific deployment.
Tom completed his sea duty and was assigned as Quality Control Officer for the A-4 Fleet Replacement squadron,
VA-125 now stationed at NAS Lemoore, California instructing new fleet pilots in A-4B/C and E models. His shore duty was short-lived for only one year, and he rolled back to sea duty and combat in Vietnam as Carrier Air Wing Fifteen Operations Officer. He cross-trained in the F-4 B and flew primarily with VA-155 in the A-4E with the Air Wing headquartered at NAS Lemoore, until deployed again to the Western Pacific embarked in USS Coral Sea. While deployed the Air Wing and ship joined the Task Force in the Tonkin Gulf for six months and he once again flew with VA-155, completing 69 combat missions.
Recognized for his maintenance acumen, he returned as an instructor in the East Coast Replacement Squadron, VA-44 stationed at NAS Cecil Field in the summer of 1968 where he took over as Maintenance Officer for the squadron's
A-4B/C aircraft. Promoted to Commander and selected for command, Tom moved up to Executive Officer for a year before making the transition to flying the A-7A as a replacement pilot in February 1970 at VA-174.
After three months of refresher training, Tom transferred to become Executive Officer of VA-37 in May 1970. Operating from USS Saratoga in the A-7A, he deployed to the Mediterranean Sea and took over as Commanding Officer, serving until January 1972. While in Command Tom was selected for Air Wing Command and in February of that year began his training in the F-8J and A-7B at NAS Miramar, CA and NAs Lemoore, CA respectively. He assumed command of Carrier Air Wing Nineteen embarked in USS Oriskany while underway in combat operations for his third tour in the Tonkin Gulf in June 1972. With combat operations again conducting missions in North Vietnam, Tom flew 174 missions as CAG in both the F-8J and A-7B. A true warrior, leading from the cockpit, he was awarded the Silver Star, Legion of Merit with Combat V, four Distinguished Flying Crosses, 36 Strike/Flight Air Medals and the Navy Commendation Medal with Combat V.
Tom departed the Air Wing upon return from the deployment in the Summer of 1973 and was assigned to the National War College, Fort McNair, Washington, D.C. for the academic year 1973-74. He was next assigned as Aviation Commander Detailer at the Navy Bureau of Personnel in Washington, D.C. where he served until May 1975. During this tour he was selected for Major Command and in August 1975 he assumed deep draft command of USS Caloosahatchee (A0-98), home ported in Norfolk, VA. During this Command Tour he deployed his ship to the Mediterranean Sea and to the North Sea supporting Battle Group operations with USS John F. Kennedy (CV-67).
Captain Brown next spent a year in training at the Senior Officers Ships Material Readiness Course (SOSMRC) in Idaho Falls, ID, and on the OPNAV Staff as OP-50W In Washington, D.C. before taking command of USS Midway (CV-41) as the forward deployed, overseas presence Flagship for Carrier Group Five, home ported in Yokosuka, Japan. He took the aircraft carrier to sea throughout the Western Pacific and Indian Ocean from February 1978 to September 1979 flying as Captain in his fourth command tour in both the A-7E and the F-4J.
After another year of leading in Navy Personnel matters as Commander, Military Enlistment Processing Command, stationed at Fort Sheridan, Illinois, and having been promoted to Rear Admiral, Tom assumed command of Carrier Group One in San Diego, California in October 1980. Still leading from the cockpit, the "Flying Admiral" conducted underway operations as Battle Group Commander flying the A-7E and the F-4S from USS Coral Sea in both the Western and Northern Pacific area of operations. He assumed Command in back-to-back sea duty, returning to the forward deployed USS Midway as Commander Carrier Strike Force SEVENTH Fleet/Commander Carrier Group Five in Yokosuka, Japan in June 1982. While in command he deployed throughout the Western Pacific and Indian Ocean, again flying the A-7E, inspiring from the cockpit as always.
Completing nearly four years at sea as a Carrier Group Commander, Tom returned to Washington, D.C. for his final assignment in the Pentagon as Director, Strike and Amphibious Warfare Division, OPNAV (OP-954) from June 1984 until his Retirement from active duty in September 1985. During his 30 and one half years of service, he accumulated nearly 5,000 flight hours in tactical aircraft, 1,017 Carrier arrested landings in at least 10 different type/model/series aircraft and completed 343 combat missions—all mishap free. To paraphrase from the tribute paid by Rear Admiral Jeremy "Bear" Taylor, Tom Brown "was an inspirational leader of warriors in combat and in peace, a steady mentor and guide for the many in Naval Aviation that followed in his wake…a patriot who loved and served our country with all his heart."
In civilian life Admiral Brown continued his legacy of leadership by leading from the classroom. He earned his Teaching Credential at San Francisco State University in 1987 and began teaching mathematics at the Junior High School level there in San Francisco. In addition, he became an Adjunct Professor, teaching a Naval War College Masters Level seminar in the Bay Area for Joint Maritime Operations. His last position in the field of education was Principal of the Summer GATE Secondary School in San Francisco, California. In addition to his Masters' Degree and his Teaching Credential he was conferred Mount Saint Mary's College's highest academic honor, a Doctor of Humane Letters (PhD) in 2000.
Tom served actively in numerous volunteer activities and organizations, notably as Chairman (and Chairman Emeritus) of the Tailhook Association Board of Directors; U.S. Navy League President, San Francisco Council; Commander General of the Naval Order of the United States; Chairman, USS Carl Vinson Committee; President of the Skyhawk Association; Chairman of the Commissioning Committees for USS Hopper (CG-70), USS McCampbell (DDG 85) and USS America (LHA 6); President of the Saints Peter and Paul Parish Council; and Director, Air Warrior Courage Foundation.
Rear Admiral Thomas F. Brown III is survived by his loving wife of over 63 years, Marty, and their four children, Thomas, Stephanie, Diedre and Donald. He was a devoted husband, loving father and adoring grandfather of seven wonderful grandchildren. Services have not yet been confirmed, but interment at Arlington National Cemetery is anticipated and a Special Notice will be published when details are known. We have lost a true icon among Naval Aviators, a combat-tested leader from the cockpit for 30 years in every theater of the globe who continued active support to our Sea Services throughout his active duty and post military career.
He will be missed.
Jay A. Campbell, Pilot