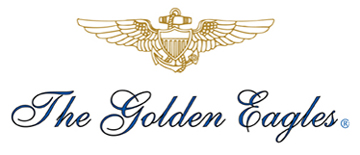 Last Take Off 2013 They Will be Missed
| | |
| --- | --- |
| | CAPT Alfred W. "Hap" Chandler, USN (RET) |
Dear Golden Eagles,

It is my sad duty to report that CAPT "Hap" Chandler, 89, USN (Ret) made his last take-off on 27 January 2013. Captain Chandler was preceded in death by his first wife Marjorie, and is survived by his wife of 32 years, Nancy Ann, daughters Connie Englert and husband Jerry, Ruth Chandler, Alison Figi and husband Eric of San Diego; stepchildren Howell Wynne and his wife Amy of San Diego and Nancy Saustad and her husband David of Dallas, TX; and sister Jane Wiegand of Bethesda, MD. He is also survived by eight grandchildren and two nephews.
A Celebration of Life will be held on Thursday, January 31, 2013, at 3:30 p.m., at the Church of the Incarnation, 3966 McKinney Avenue, Dallas, TX 75204. A reception immediately following will be held at the Brook Hollow Golf Club, 8301 Harry Hines Blvd., Dallas, TX 75235. In lieu of flowers, donations in Captain Chandler's name can be made to the Frontiers of Flight Museum in Dallas, TX, or the National Naval Aviation Museum Foundation in Pensacola, FL.

Captain Chandler enlisted in the U.S. Navy to fight in World War II – much to his father's chagrin since he had earned an appointment to the U.S. Naval Academy where his father was the Senior Dentist on the campus. After boot camp, Captain Chandler accepted an appointment to the Navy's Aviation Cadet Program, earning his wings in 1942. He shipped out to the Pacific as a replacement pilot in Fighter Squadrons VF-1 and VF-5 aboard the carrier USS Yorktown (CV-10) and in VF-13 aboard the USS Franklin (CV-13). While aboard the Franklin, he had the dubious distinction of being blown out of his airplane when a Japanese kamikaze aircraft hit the carrier.
Captain Chandler saw action at Truk, Palau, Hollandia, Clark Field, Saipan, Rota, Guam, Okinawa, the Mariana Islands, and the Phillipines (where he was credited with shooting down a Japanese aircraft). For his service in World War II, he was awarded the Legion of Merit, two DFC' s, and the six Air Medals.
Other notable highlights in Captain Chandler's Navy career include his selection as the first American exchange pilot with the Royal Navy, flying jet fighters with 803 Squadron aboard the HMS Eagle (during which he survived a ditching in the English Channel); as a test pilot at the Naval Air Test Center, PAX River; as CO of Fighter Squadron VF-114 aboard the USS Kitty Hawk (CV-63); as navigator of the USS Ticonderoga (CV-14) and Executive Officer of that ship during the Tonkin Gulf incident; as the CO of Detachment Charlie in Saigon where he coordinated operations between the Navy's Seventh Fleet and the Seventh Air Force; and as CO, NAS Miramar.
Captain Chandler retired from the Navy after 33 years of service, during which time he also earned an MBA from George Washington University. After his retirement, Captain Chandler channeled his energy towards highly successful operations in real estate, investing in properties throughout San Diego. Ever the consummate aviator, Captain Chandler was proud of his ability to maintain the qualifications necessary to fly his Citation II business jet as a single pilot until just recently.

Another of our members who was part of the "Greatest Generation" has made his last take-off. He will be missed.

Fred Lewis – Pilot
Golden Eagle Emeritus


CAPT Stanley "Swede" Vejtasa, USN (Ret)

Dear Golden Eagles,
It is my sad duty to report that CAPT Swede Vejtasa, USN, (Ret), 98, made his last take-off on 23 January 2013. He is survived by his children Gene, Dan, and Susan, four grandchildren and five great-grandchildren. His wife, Irene, predeceased him in September 2004. At his request no memorial service will be conducted and his ashes will be scattered at sea.
CAPT Vejtasa was born in Paris, Montana in 1914 and attended Montana State College and the University of Montana. He joined the Navy in 1937 and entered flight training on 1 June 1938 receiving his wings of gold on 14 August 1939. He reported immediately to VS-5 embarked on the USS Yorktown (CV-5) flying the biplane SBC-3 Helldiver and was involved in peacetime operations in the Atlantic and the Pacific. While his squadron was transitioning to the SBD Dauntless the war against Japan began and he was immediately immersed in combat operations against the enemy. While embarked on USS Yorktown he participated in the Makin Island Raid, the Lae and Salamaua Raid, and the Guadacanal-Tulagi Raid. While conducting strikes near New Guinea he received his first Navy Cross for the destruction of three enemy vessels. At the Battle of the Coral Sea, 7-10 May 1942 while flying anti-VT patrol, he downed three enemy aircraft for which he received his second Navy Cross. His skill as a fighter pilot thus became evident to all, and after the battle he was transferred to VF-10 and along with survivors of the USS Lexington air group (USS Lexington was lost at Coral Sea) joined the USS Enterprise air group. At the Battle of Santa Cruz Island, 25-26 October 1942, he became a "Double Ace" and was awarded his third Navy Cross when on a single mission flying the F4F he downed two Japanese Val bombers and five Japanese torpedo planes. After those victories and "winchester" for ammo, he watched helplessly as Japanese dive bombers struck the USS Enterprise with two of their bombs. He remained engaged in combat operations in the South Pacific with VF-10 until April 1943 when he was ordered to return to the US to take command of VF-97 at NAS Atlantic City, where he later commanded CAG-44.
At war's end CAPT Vejtasa was the only Naval Aviator to be awarded the Navy Cross for mission successes while flying both dive bombers and fighters.

Following the war he served in a variety of staff and operational assignments including command of the following units: VF-10A/ VF-92 embarked on USS Philippine Sea, November 1947-January 1949; NAS Mojave/ NLO, Edwards AFB, February 1949-January 1951; CO, NAF China Lake, April 1953-April 1955; USS Firedrake (AE-14), March 1959-August 1960; USS Constellation ( CVA-64), October 1962-November 1963; and COMFAIR Miramar, August 1965 to September 1968.
He retired from active duty in July 1970. In addition to his three Navy Crosses his other awards include the Legion of Merit, the Bronze Star, the Navy Commendation Medal, the Presidential Unit Citation, and the Meritorious Service Medal.

Following retirement he settled in Escondido, CA where in addition to being the Secretary, Rey River Ranch Corporation for 25 years, he, as his grandson said "lived his life". Yet another member of the "Greatest Generation", a "Double Ace" and one of our most highly decorated Naval Aviators has made his last take-off.

In sadness,
Fred Lewis-Pilot
Golden Eagle Emeritus

CAPT William E. Scarborough, USN (Ret)
Dear Golden Eagles,

It is my sad duty to report that CAPT Bill Scarborough, USN (Ret) made his Last Take-off on 11 February 2013 at the Fleet Landing Health Center in Atlantic Beach, FL. He was 96. CAPT Scarborough is survived by his loving wife of 71 years, Sarah K. Scarborough, sons William E. Scarborough, Jr and Michael Scarborough, daughter Kathryn Scarborough Noyes, five grandchildren and two great-grandchildren. A full honors ceremony accompanied his interment at the Elmwood Cemetery in Columbia, SC on 15 February 2013.

CAPT Scarborough enlisted in the United States Navy upon graduating from Columbia High School (SC) in 1935. After boot camp he served aboard the USS Erie and the USS Yorktown until 1938 when he was selected for flight training at Pensacola. He was a Third Class Petty Officer at the time and received his wings in 1939. After flight training he was assigned to VP 14 at NAS Norfolk and flew PBY Catalina's on North Atlantic patrols during which time his squadron took part in the search for the German Battleship Bismarck. Immediately following the bombing of Pearl Harbor, CAPT Scarborough's squadron was sent to the Pacific theater to operate from seaplane bases in Noumea and Espirito Santo, where they took part in the Battle of the Coral Sea, the fight for Guadalcanal, and the Battle of Midway. He later served as Operations Officer of VB-144 in the island-hopping campaign through the Central Pacific, and it was during this assignment that he received his commission to Lt (jg) in 1944.

In the 1950's, CAPT Scarborough was honored to be one of the few aviators selected to be a member of VC-5, the first Navy nuclear attack squadron. From 1952-1953 he served as Head of Safety Literature at the Naval Aviation Safety Activity (later the Naval Safety Center) and developed a report distributed to Fleet and Shore Stations entitled Weekly Aviation Safety Bulletin based on aircraft accident reports received by dispatch. The bulletin summarized those reports including recommended corrective actions, and in 1955 the bulletin was renamed Approach Magazine.

CAPT Scarborough, whose decorations included the Distinguished Flying Cross, was the first enlisted pilot (NAP) to attain the rank of Captain, and during his career he was privileged to command VB 144 and VP 10. CAPT Scarborough retired from the Navy in 1964, but continued his service in the aviation industry as a flight safety engineer for Grumman Aerospace, most notably as a consulting pilot to the NASA astronauts in the Lunar Module program. He was a respected Naval Aviation historian and author, particularly well-known for his "In-Action" and "Walk-Around" books for Squadron Signal, as well as being a willing consultant to many other authors.

We honor CAPT Scarborough's dedicated and lifelong service to Naval Aviation and the Nation, and are further saddened by the loss of yet another member of the Greatest Generation.

He will be missed.

In sadness,
Fred Lewis - Pilot
Golden Eagle Emeritus NOTAM

Rear Admiral Julian Strong Lake III USN (Ret)
Dear Golden Eagles,
It is my sad duty to report that RADM Julian Lake, aged 90, made his Last Take-Off on 2 March 2013 at the Homewood Nursing Home in Frederick, Maryland. He had been a resident of Binghamton, New York for twenty-two years until November 2012, when, after the death of his second wife, Lucinda Ann Lake, he moved to Maryland. He is survived by her family, step-father-in-law Cecil F. Popolo, of Endicott, New York, and sister-in-law Lisa Conklin Popolo of New Rochelle, New York. He is also survived by his first wife, Barbara Mae Brooks Dougherty, of Potomac Falls, Virginia, and their children, Julia Ann Lake, Diane Lake Riordan, and Julian Strong Lake IV. He was predeceased by a daughter from his first marriage, Clara Virginia Vadersen. He is beloved by his seven grandchildren and one great-grandchild. A Memorial Service will be held on March 23, 2013, at 11:00 a.m. at Christ Episcopal Church in Binghamton, New York.
Born on June 13, 1922 in South Boston, Virginia to Julian Strong Lake, Jr., and Cary Stebbins Lake, he grew up in Newport News and Paces, Virginia, and attended Virginia Polytechnic Institute before joining the Navy in 1942. He entered flight training and became a night and all-weather fighter pilot flying the F6F-5N with VFN-91 embarked on USS Bon Homme Richard (CV-31). He served in World War II (Pacific Theater), the Korean War, and the Vietnam War. In 1960 he commanded VF-74, the Navy's first F4H Phantom II squadron and subsequently commanded Carrier Air Wing EIGHT on USS Forrestal. His service as Commanding Officer, USS Hassayampa (AO-145) preceeded his assignment as Commanding Officer, USS John F. Kennedy in 1968. His final tour of duty was as Commander, Naval Electronics Systems Command from 1975-1976.
RADM Lake was the recipient of three Air Medals (World War II), the Bronze Star (Vietnam) and the Navy Commendation Medal (Korea). He attended George Washington University, receiving a Bachelor of Arts in International Affairs, and graduated from the Naval War College. He accumulated 7,780 hours of flight time in 69 different aircraft models.
After retiring from the Navy in 1976, Admiral Lake lived in California for fourteen years. He became the publisher of Countermeasures Magazine and served on the board of directors and as president of the Association of Old Crows, electronic warfare's professional organization. He also became a consultant for numerous defense contractors, wrote numerous articles and lectured on electronic warfare around the world. He moved to Binghamton, New York where he became active in many community service organizations, including the Binghamton Rotary Club where he was made a Paul Harris Fellow, and he served as a member of the vestry of Christ Episcopal Church.
RADM Lake was one of the early champions for the development and enhancement of Naval Aviation's electronic warfare capability, and it was because of his effort and commitment that today the Navy is the lead service in the exploitation of electronic attack. A true pioneer and innovator in the development of new capability for the fleet, from early night fighter tactics to new fighters to new weapons, his legacy is one of continuous improvement and dedication to excellence. We have lost another member of the Greatest Generation.
He will be missed.
In sadness,

Fred Lewis-Pilot
Captain Wynn F. Foster, USN (Ret)


Golden Eagle Emeritus
Dear Golden Eagles,

It is my sad duty to report that CAPT Wynn F. Foster, USN (Ret), age 86, made his Last Take-Off on 9 June 2013 in Prescott, AZ. He was predeceased by his wife, Marilyn, on 10 July 2012. His wishes were that his services be conducted at the Chapel at NAS North Island and that his ashes be scattered at sea. Additional details will be provided at a later time.

Everyone knew him as " CAPT Hook " because of the prosthesis he wore in place of his right arm which had been severely injured while flying an A4 during a 1966 strike mission in North Vietnam. That remarkable incident was fully detailed in his autobiography, " Captain Hook: A Pilot's Tragedy and Triumph in the Vietnam War" published in 1992. His words describe the AAA hit he took that shattered his cockpit severing his right arm and further described his heroic and superhuman efforts in maintaining control of his aircraft in spite of his traumatic injury, flying it to an area off the coast of Vietnam to a position overhead a US Navy destroyer, and then initiating ejection to be recovered by that ship's motor whaleboat crew. What he accomplished was the stuff of legend for which he was awarded the Silver Star. VADM Jim Stockdale called him a man with a "tremendous sense of purpose and uncommon tenacity". In fact during an earlier strike mission launched from the deck of the USS Oriskany in 1965, CAPT Foster had been on Admiral Stockdale' s wing when Admiral Stockdale was shot down and captured.

CAPT Wynn Foster was born in 1926 in Minnesota, and after high school, like many his age seeking to serve their country in WWII, he enlisted in the Navy in 1944. With the conclusion of that war he was released from active duty, attended the University of Minnesota, subsequently rejoined the Navy, and entered flight training in 1949 receiving his wings in 1950. He trained in the F9F-2, deployed to Korea and flew 75 combat missions during that conflict. A series of shore and sea duty assignments followed his service in Korea to include a tour with VX-4, tours as a flight instructor, and service as a ship' s company officer aboard USS Forrestal. In 1960 he transitioned to the A4 serving as XO of VA-76 during the Cuban Missile Crisis. It was in 1966 while embarked on the USS Oriskany and assigned to VA-163 as Commanding Officer that the incident described above occurred. His recovery from his injury took about a year, and after a 2-3 year battle, the Navy granted his request and allowed him to remain on active duty. Thus, he continued to serve his Navy and the Nation at sea and ashore until his retirement in 1972.

After retiring from the Navy, CAPT Foster continued to chronicle historical events important to Naval Aviation to include his second book, " Fire on the Hangar Deck" a retelling of the circumstances of the disastrous fire on board the USS Oriskany. Further, he authored and contributed to several articles published in " Hook" magazine and other aviation related journals. Much of his time in retirement was devoted to support for the Tailhook Association where he provided inspiration to all involved in the resurgence of that important association.

CAPT Wynn F. Foster was a gentleman of the first order, a man who never complained about his fate, a man determined to serve his country as long as he was able, and a man to whom the honorable way was never out of focus. We have lost another member of the Greatest Generation.
He will be missed.
In sadness,
Fred Lewis-Pilot
flewis@ndia.org • The Golden Eagles
NOTAM 6-2013 (Herlihy)
| | |
| --- | --- |
| | Major George B. Herlihy, USMC (Ret) |
Dear Golden Eagles,

It is my sad duty to report that Major George B. Herlihy, USMC (Ret), age 93, made his Last Take-Off on 5 August 2013 at his home in Santa Ana, CA. He is survived by his wife, Bobbe, his daughter, Terri Tobin-Quereto, and sons, George, Michael, and Patrick, and their families. His wishes were that he be cremated and that no memorial service be conducted.

Major " Jug " Herlihy was inducted into the Golden Eagles in 2012 and was thus able to attend our Reunions in Orlando and Scottsdale. At both reunions he was accompanied by Bobbe and by their daughter, Terri, and, in their words, Jug's induction into the Golden Eagles was one of the most important events of his long life.
Jug was born in 1920 in Maryland, but the family moved to Arizona soon after. He spent his formative years in the Tucson area, attended primary school and high school in the same one room schoolhouse. He attended the University of Arizona through the NROTC program, graduated with a degree in Mechanical Engineering, and was commissioned a 2/Lt in the Marine Corps.

Jug began his service to the Nation in May 1941 and subsequently received his wings one year later in May 1942. After training as a dive bomber pilot, Jug proceeded to the South Pacific and Guadalcanal where after his arrival in October 1942 he flew fifty-one combat sorties with VMSB-132. On one of those missions in June 1943 he experienced an engine failure over the target area and was forced to ditch at sea. After a successful water landing, Jug and his trusty rear gunner extricated themselves from the airplane, boarded their raft and headed for a nearby island. After encountering native islanders, their escapades over the next few days are the stuff of legend as they travelled by canoe, were shelled by Japanese shore batteries, were picked up by a PT boat which subsequently ran aground, transferred to another PT boat which also ran aground and was destroyed by enemy fire. They fortunately escaped injury, jumped into the water, swam to yet a third PT boat, and eventually were returned by LST to Guadalcanal from which Jug and his gunner then continued flying combat missions. His squadronmate and fellow Golden Eagle, Col Hap Simpson, calls Jug a no nonsense and highly capable combat pilot who, as one of the most junior pilots in the squadron, was designated a section leader well ahead of more senior pilots, a clear testament to his flying and fighting skills.

Jug returned to the US in October 1943, transitioned to fighters flying the F4U, and was later returned to combat in December 1944 as a pilot in VMF-113. He remained overseas until the end of the war, and at the conclusion of hostilities he had completed an additional forty combat missions flying in the Marianas and Okinawa campaigns.
After the war a series of administrative and training assignments followed, but further combat operations (forty additional missions) awaited him in Korea where he was assigned to night fighters with VMFN-513 flying the F4U-5N from December 1950 to May 1951.

Following his service in Korea, Jug proceeded through a series of additional administrative and training assignments that led up to his subsequent retirement from the Marine Corps in 1961. His post retirement activities included working for the Rockwell Corporation on the Minuteman Missile Program from 1961 until 1985, and then running his own industrial tool business in Santa Ana until 2004.

For those of us who had the opportunity to meet and chat with Jug and his wife Bobbe at our Orlando and Scottsdale Reunions, I am certain that all of us came away with the same assessment. Here was a man who had earned three DFC's and seven air medals for exceptional achievements in combat and who at age 93, possessing all his faculties, still had the aura of a warrior about him and who continued to enjoy a wonderful zest for life. There was no doubt that he was a Great American. We have lost another member of the Greatest Generation.

He will be missed.

In sadness,
Fred Lewis-Pilot
NOTAM 7-2013 (Lamoreaux)
CAPT L. Scott Lamoreaux, USN (Ret)
Golden Eagle Emeritus
Dear Golden Eagles,
It is my sad duty to report that CAPT L. Scott Lamoreaux, USN (Ret) made his Last Take-Off on 13 August 2013 in Sequim, Washington. He is survived by his wife, Marge, daughters Tina Lamoreaux and Lydia Miles, and daughter-in-law Jayne Lamoreaux. He was predeceased by his son, CDR Scott Lamoreaux who lost his life in an F14 Tomcat mishap in 1996. At this writing the family had not confirmed plans for a memorial service and funeral. Details will follow via separate email.
CAPT Lamoreaux was born in 1926 in Pittsburgh, PA, and at age seventeen entered the US Navy via the Aviation Cadet Program in 1943. WWII ended before he could participate in that conflict, and he was released from the Navy in 1945. After the war, he continued the educational process begun while he was on active duty and graduated from Harvard University in 1947. He subsequently worked in the advertising field until he was recalled to active duty in 1951 and completed flight training in 1953. Various shore and sea based assignments followed including head of Navy Flight Test at McDonnell Aircraft in St Louis and O-in-C of VF-101 Det Alpha where he oversaw the introduction of the F4H Phantom II into the Atlantic Fleet. His experience in the Phantom led to his designation as a competitor in the 1961 Bendix Trophy race (Los Angeles to New York) during which he placed second with an average speed of 822 MPH. Additional fleet squadron assignments followed and in 1965 he assumed command of VF-84 which he successfully led during combat operations over Vietnam while personally flying 200 missions. Additional sea duty and shore assignments followed including command of the west coast F-4 RAG, VF-121, and then in 1967 he became the VFX Program Coordinator on the OPNAV Staff, a billet he filled for four years as he oversaw the successful introduction of the F-14 to the Fleet. CAPT Lamoreaux's final assignment on active duty was as Commander, Fighter Airborne Early Warning Wings Pacific at NAS Miramar, CA.
Following retirement in 1974, CAPT Lamoreaux joined the Hughes Aircraft Company where he continued to assure that the F-14 would be adequately supported in the Fleet. His duties with Hughes included support of the F-14's procured by the Shah of Iran, and then later as a member of the Advanced Programs group he focused on the design of future tactical aircraft. He retired from Hughes Aircraft in 1988.
When asked to comment on Scott Lamoreaux, the man, former Golden Eagle Pilot, CAPT Bill Knutson, had the following to say about his close friend:
"Scott was in the forefront of the procurement and tactical use of fighters in Naval Aviation. He cut his teeth as the BuAer rep to McDonnell in St Louis during the development and procurement of the F-4H-1 and was central to the F-4 fleet introduction. His combat experience in the F-4 cemented his knowledge and feeling about the role of fighters in the Navy and made him the perfect man to guide the Navy in the procurement of the F-14 in OPNAV…….it was the forward thinking and steady hand of Scott Lamoreaux behind the scenes that brought the Tomcat to the fleet in record time. Besides being one of the best aviators I have ever flown with, Scott was a spirited leader, sound tactical thinker, and a tenacious fighter…."
He will be missed.
Fred Lewis-Pilot
NOTAM 8-2013 (Hanecak)
Golden Eagle NOTAM
CAPT Richard G. Hanecak, USN (Ret)
Golden Eagle Emeritus
Dear Golden Eagles,
It is my sad duty to report that CAPT Richard G. Hanecak, USN (Ret), age 90, made his Last Take-Off on 4 October 2013 in San Diego, CA. He is survived by his daughters, Janice, Ronnie, and Shelly, and two grandchildren. He was predeceased by his first wife Delores, and by his second wife, Betsy, who predeceased him in 2008. Information in regard to a memorial service in his honor will be passed by separate correspondence.
CAPT Hanecak was born on 31 October 1923 and was raised in Pennsylvania. He briefly attended Purdue University in the early forties, enlisted in the Navy for flight training in 1942, and received his wings in July 1943. In WWII he served in the Pacific flying the F6F with VF-7 embarked on USS Hancock from September 1944 to February 1945. He participated in numerous air and sea battles in the Philippine area of operations, and during this tour he shot down a Japanese A6M5 ZERO fighter. At the second Battle of the Philippine Sea he participated in strikes against the combined fleet of the Imperial Japanese Navy and was actively engaged in the first fighter sweeps over Okinawa, Formosa, Hong Kong, and the coast of what was then called French Indo-China. In February 1945 he was detached from VF-7, returned to the US, and reported to VF-44 where he served until the end of the war. Various training and operational tours followed including assignment in 1950 to VC-11 embarked on USS Valley Forge when he was again involved in combat operations during the Korean War. He was an AD-3 Skyraider pilot at the time and flew forty-one combat missions in support of US operations in that theater. In late 1950 after transfer from VC-11 he served in additional training, staff, and operational billets including command of VA-146 flying the FJ-4B Fury embarked on USS Lexington. Other command assignments followed including command of the Navy Photo Center in Anacostia, command of NAS Cubi Point, and command of the USS Haleakola ( AE-25) aboard which he made two deployments in support of operations against North Vietnam. His final assignment on active duty was on the staff of COMNAVAIRPAC from which he retired in 1974. For his superior leadership and aviation achievements in WWII, Korea, and Vietnam he was awarded the Legion of Merit, two DFC' s and other service and campaign medals.
Dick Hanecak's dedicated service in three of our Nation's wars is a true testament to the characterization applied to him by his brothers-in-arms who refer to him as a "true warrior". He was a fighter in the air, but on the ground he was a thoughtful and understanding human being who did not require harsh words or strong language to stir men to action. It is sad to know that yet another member of the "Greatest Generation" has left us behind.
He will be missed.
In sadness,
Fred Lewis-Pilot
NOTAM 9-2013 (Lundin)
Colonel Herbert V. Lundin, USMC (Ret)
Golden Eagle Emeritus
Dear Golden Eagles.

It is my sad duty to report that Col Herbert V. Lundin, USMC (Ret), age 89, made his Last Take-Off on 22 November 2013 in Atlantic Beach, Florida. He is survived by his Daughter, Valery, his son William, and grandson, Mamo. He will be interred at Arlington National Cemetery on a date to be determined.

Col Lundin was born in 1924. He entered the NAVCAD program in 1942, received his commission and his wings in August 1943, and joined VMF-115 assigned to MCAS Santa Barbara flying the F4U. He deployed with that squadron embarked on USS Bennington (CV-20) to the Western Pacific from January to June 1945. It was during that deployment that he was credited with the destruction in aerial combat of four enemy aircraft.

Following WWII and until 1950 he continued to fly the F4U with VMF-225 and VMF-115 in Hawaii, Santa Barbara, and Cherry Point. During the Korean War, he flew the F9F while assigned to VMF-224 at Cherry Point and with VMF-115 embarked on USS Franklin D. Roosevelt. After an exchange tour flying the F-101 at Bergstrom AFB with the USAF, various staff and school assignments followed until 1966 when he took command of VMFA-312 flying the F4B at MCAS Beaufort. From 1967 to 1968 he served in Chu Lai, South Vietnam first as Operations Officer, MAG-13 and then as CO, VMFA-314. It was during these assignments that he flew 446 combat missions in the F4B for which he was awarded a Legion of Merit with combat "V". Subsequent to his service in Vietnam other operational and staff assignments occurred until his final tour of duty as Chief of Staff 1st Maw at MCAS Iwakuni, Japan. In addition to the Legion of Merit his other decorations include three DFC' s and forty-four Air Medals.
After his retirement in 1975 Col Lundin became an airline pilot flying with Antilles Airlines in the Virgin Islands for ten years.

Col Herb Lundin was an exceptionally skilled aviator and a legend in Marine Aviation. Yet his deep humility prevented him from ever talking about his exceptional achievements. A close friend and fellow Golden Eagle reported that Herb was "just too modest to brag but he had so much to brag about". That trait was typical of the "Greatest Generation" whose ranks have been reduced by one more with Col Lundin's Last Take-Off.

He will be missed.

Fred Lewis-Pilot
NOTAM 10-2013 (Shuman)
| | |
| --- | --- |
| | Captain Edwin A. Shuman III, USN, (Ret) |
Dear Golden Eagles,

It is my sad duty to report to you that CAPT Edwin A. Shuman, USN (Ret) made his Last Take-Off on 3 December 2013 in Annapolis, Maryland. He is survived by his wife, Donna, four children, and seven grandchildren. Funeral services are scheduled for Tuesday, 10 December 2013 at 1100 at the St John Neuman Church, 620 Bestgate Rd, Annapolis, MD. A Commitment Service will follow at the USNA Columbarium with a reception to follow at the Annapolis Yacht Club.

CAPT Shuman was born in Boston, Massachusetts in 1931, graduated from the Naval Academy with the Class of 1954, and received his wings in 1955. His first assignment was with VC-4 at NAS Atlantic City flying the AD-4 from 1955-57. A tour with VF-81 at NAS Oceana followed during which he flew the F9F from the decks of the USS Forrestal and the USS Intrepid. After a brief assignment with VA-43, he was selected to Test Pilot School from which he graduated in October 1960. Two years as a project pilot with Weapons System Test Division followed after which he served for three years s a Catapult Officer aboard the USS Franklin D. Roosevelt. In 1966 he reported to CVW-7 as the Operations Officer and was then assigned to VA-35 embarked on USS Enterprise. He was shot down over North Vietnam while flying his A6 in March 1968 and was held as a POW in Hanoi until his repatriation on 17 March 1973 after having endured 1824 days of captivity. After his return home he commanded VF-43 at NAS Oceana, served at the Naval Safety Center, was the CO, Naval Station Annex, Annapolis, MD ( where he competed in 20 Bermuda races ), OIC Naval Annex, Bermuda, and retired from active duty in 1984.

CAPT Shuman' s decorations include the Silver Star, the Legion of Merit with combat "V", and three DFC' s. The citation for his Silver Star reads in part, " …for conspicuous gallantry and intrepidity while interred as a POW in North Vietnam ".

In his retired life CAPT Shuman began flying gliders in the late 1980's and later owned and operated his own RV-6A. He continued to ocean race until 2006 as he and his wife, Donna, lived quietly in Annapolis.

CAPT Shuman was a true credit to the Naval Service and to Naval Aviation. He was one of a number of American aviators who were put through the most arduous of tests, faced the most dire circumstances for long periods, yet were able to withstand the rigors of long confinement and severe depravation of basic necessities and survive with honor. Fellow Golden Eagle and POW, RADM Bob Shumaker, had the following to say about CAPT Shuman, "Ned was topnotch in my book. We were fellow POW's, and his conduct while in prison was exemplary. I grew to appreciate his laid back style, his love of the Navy and his keen attachment for sailing and aviation".

He will be missed.


In sadness, Fred Lewis-Pilot
NOTAM 11-2013 (Peelle)
| | |
| --- | --- |
| | CAPT Morris A. Peelle, USN (Ret) |
Dear Golden Eagles,

It is my sad duty to report that CAPT Morris A. Peelle, USN (Ret), age 83, made his Last Take-Off in Steamboat Springs, Colorado on 23 December 2013. He is survived by his sons, Michael and Harvey, his longtime companion, Sandy Dodge, four grandchildren, and two great-grandchildren. A memorial service will be conducted in San Diego in late January. Details will be forwarded via Golden Eagle Special Notice when they become available.
CAPT "Mo" Peele was born in California on 15 April 1930. He attended UCLA and graduated in 1952 receiving his commission in the US Navy. He reported to Pensacola for flight training shortly after graduation and received his wings in November 1953. His first assignment was with VA-196 based at NAS Alameda where he flew AD-5's and 6's making two WESTPAC deployments, one each on USS Wasp and USS Lexington. A tour as a flight instructor in Pensacola followed where he instructed in numerous training aircraft including the T-28, S2F, and SNB. His goal, however, was to fly jets, and so with the help of CAPT Zeb Knott who was the Blue Angel leader at the time, CAPT Peelle was able to accumulate more than a few hours in the Blue Angel F9F-8T. After the Training Command, his next assignment was as a "Shooter "on the USS Ticonderoga . His follow on assignment to the ship's company tour was with VA-125 at NAS Lemoore where he served as an instructor in the A-4 (1963-1964). Staff college and shore duty in Washington, DC followed during which he was selected for command and subsequently reported to VA-23 as XO/ CO in 1967. CAPT Peelle successfully led his squadron through two combat deployments flying the A-4F from the USS Ticonderoga and the USS Oriskany. For his outstanding performance in combat he was awarded two DFC's and twenty-two Air Medals. He next attended the Naval War College and was subsequently detailed to the USS Kitty Hawk as XO. A brief tour at AIRPAC followed just prior to his assumption of his deep draft command, the USS Astabula. His next assignment was as Commanding Officer, USS Constellation from 1976-1978. After another tour in Washington, DC, he returned to San Diego for his final assignment on active duty as Commanding Officer, Recruit Training Center, San Diego. He subsequently retired in 1994. In retirement he specialized in property management, but the work for which he was most proud was his service to the Midway Museum in San Diego in helping to assemble the wide array of different aircraft types currently on display on the flight and hangar decks.
To all who knew him, Mo Peele was an exceptional person and one who could be counted on when things got tough. Fellow Golden Eagle, VADM Tony Less, who was the Air Wing Commander when CAPT Peelle was the CO, USS Constellation, called him his role model for what a carrier skipper ought to be. Tony Less further offered that because of CAPT Peelle's leadership the Constellation enjoyed the highest standards of readiness, cleanliness, and professionalism.
In the early years of his career while he was a flight instructor in Pensacola, CAPT Peelle first encountered CAPT Dick Hanecak, a Golden Eagle whose Last Take-Off occurred on 4 October 2013. The result of that meeting in Pensacola over fifty years ago was a friendship that lasted a lifetime. To ensure that his friend received appropriate tribute from his peers CAPT Peelle personally organized a Memorial Service for CAPT Hanecak at Miramar in early December a few short weeks prior to his own death. CAPT Peele's devotion and loyalty to his friend are not only the marks of a gentleman they are the marks of a truly great leader and epitomize a central tenet of our Naval Aviation heritage: Taking care of your wingman.
He will be missed.
In sadness,

Fred Lewis-Pilot
NOTAM 12-2013 (Talley)
VADM George C. Talley, Jr. USN (Ret)
Golden Eagle Emeritus
Dear Golden Eagles,
It is my sad duty to report that VADM George C. Talley, Jr. USN (Ret), age 91, made his Last Take-Off on 27 December 2013 in Ponte Vedra Beach, Florida. He is survived by his wife Bonnie, four children, fourteen grandchildren and seventeen great grandchildren. A funeral service will be conducted at the Quinn Shalz Funeral Home, 3600 3rd St S, Jacksonville Beach, FL, at 1100 on Tuesday, 7 January 2014 with interment at Arlington National Cemetery at a later date.
VADM Talley was born in Eastland, Texas on 28 March 1922, and attended the University of Oklahoma for one year prior to entering the Naval Academy in 1940. He graduated with distinction with the Class of 1944 on 9 June 1943 (early due to WWII), was assigned to the USS Arkansas (BB-43), and participated in the invasions of Normandy and Southern France. He commenced flight training in October 1944, received his wings in October 1945, and reported to his first squadron, Torpedo Squadron 75 ( later designated VB-4B), embarked on the USS Franklin D. Roosevelt (CV-42). A tour as a test pilot at Patuxent River followed until 1951 when he was ordered to VF-11 based on the USS Kearsarge (CV-33) flying the F2H Banshee. In that assignment he flew sixty combat missions during the Korean War and was awarded three single mission air medals for valor under fire. Various sea and staff assignments followed until he screened for command, and in 1958 was assigned to VA-34 (A-4's) as XO/CO. A brief tour at STRATCOM in Omaha, Nebraska followed until his assignment as Commander, Carrier Air Group ONE embarked on the USS Enterprise (CVAN-65) for that new carrier's shakedown deployment and then later when the air group was aboard the USS Franklin D. Roosevelt. On 17 January 1962 while serving as CAG, he made the first arrested landing and the first cat shot aboard the nuclear powered "Big E" in an F-8E Crusader. Duty at COMOPTEVFOR followed in 1965 until his transfer to his deep draft command, the USS Chilton (APA-38). His successful tour in that assignment led to his selection to command the USS Franklin D. Roosevelt (CVA-42) in 1966 when the ship and air wing were assigned to carry out combat operations in Vietnam. VADM Talley was selected to flag rank in 1967, commanded CARDIV Four/ CTF Sixty in the Mediterranean Sea in 1970, and in 1972, when he was promoted to Vice Admiral, he was assigned as Deputy Commander, US Pacific Fleet. Another tour in Washington, DC followed on the OPNAV staff where he served until his retirement from active duty in 1975.
Upon his retirement VADM Talley joined "First Command" as a consultant and rose through the ranks to eventually become in 1985 the Chairman of the Board and CEO. He retired from that position in 1992.
VADM Talley, a true Southern Gentleman and gifted Naval Aviator, was a man of high integrity and one who proved his mettle in the crucible of combat and in tough shore assignments. As an operator afloat or in the air he was without peer. As a staff officer he possessed remarkable skills as an intermediary in translating directions from seniors into actionable orders to subordinates. Nowhere was this more important than when he served as Deputy, CINCPACFLT. In civilian life his success in the business world was indicative of his superb management and leadership skills. A beloved husband, father, grandfather, and great grandfather, we have lost another member of the Greatest Generation.
He will be missed.
In sadness,
Fred Lewis-Pilot