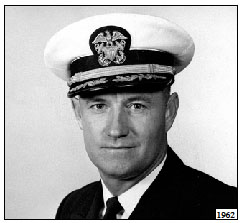 Dear Golden Eagles,
I am saddened to report that Captain Theron Jack Taylor, USN (Ret.) made his last take-off on Monday, January 16, 2012 in Phoenix, Arizona. His loving wife of 65 years Patricia, daughters Martha Ann (Robert I.) Ray and Tricia Ellen (Clyde Franklin, Sr.) Hardin, three grandchildren and a great granddaughter survive him. A visitation was held in Scottsdale, AZ on January 20, 2012. Funeral Services were conducted at St. Barnabas on the Desert Episcopal Church in Paradise Valley, AZ on Saturday, January 21, 2012.
CAPT Taylor joined the Navy V-5 program while a junior at the University of Oklahoma after news of Japanese attack on Pearl Harbor. He entered flight training in April '42 and was designated a naval aviator on November 24, 1942. After additional operational training and carrier qualifications in the SBD aboard USS Wolverine in Lake Michigan, he was assigned to VB-2 aboard USS Hornet (CV-12). In June '44, during first Battle of Philippine Sea, Jack made a direct hit on a Japanese carrier and subsequently ditched his damaged SB2C at sea. He was awarded the Navy Cross for his heroic actions during this attack. Jack flew 33 combat missions during WWII.
After WWII, CAPT Taylor had assignments as Staff Safety Officer with Commander Naval Air Training Bases, Corpus Christi, TX, as CIC officer aboard USS Bairoko (CVE-115), and attended General Line School at Monterey, CA, before returning to combat duty. Jack was assigned to VA-55. aboard USS Princeton (CV-37) in '51, and aboard USS Essex (CV-9) in '52 flying AD-1 and AD-4 during Korean conflict. He flew 79 combat missions in Korea. In addition to WWII Navy Cross, Jack was also awarded the Distinguished Flying Cross, 11 Air Medals and two Meritorious Service Medals for his heroic achievements during actions in WWII and Korea.
Jack was selected for Test Pilot School and was in Class 10 at Naval Air Test Center Patuxent River, Md. After graduation he served in the Carrier Branch, Flight Test Division. Following a tour as Operations officer of VA-66, and a Mediterranean cruise flying the F7U-3, he commanded VA-44 at NAS Jacksonville, FL in '56-'57. He attended Armed Forces Staff College in Norfolk, VA in '60, and was Air Boss in USS Forrestal (CVA-59) before returning to Patuxent River as Director of Flight Test Division from '61-'63. Jack attended Naval War College and closed out his illustrious 31- year naval career with three commands in his last four assignments. First as Commanding Officer, USS Graffius (AF-29) serving in Vietnam area of operations from '66-'67; as Commanding Officer, NAS Atlanta, GA; and as CO, Navy and Marine Corps Reserve Center, Portland OR from '71 to his retirement in March '73.
CAPT Taylor was an outstanding test pilot, combat leader and naval officer who led by example from his earliest days. He remained active in his community long after retirement, and was a strong naval aviation advocate. Jack was proud of his Golden Eagles affiliation and was a regular reunion attendee into his late eighties.
We have lost another hero of WWII, and one who served with distinction in Korea and Vietnam, as well. He will be missed.
Sadly,
Bill Gureck, Pilot
NOTAM 2-2012 (HOUSER)
Dear Golden Eagles,
I am saddened to report that Vice Admiral William D. Houser, USN (Ret.) made his last take-off on Sunday, February 5, 2012 in Washington, D.C. His wife Jan, three daughters Cindy Riera, Gayle Fogleman, and Francie Washington; six grandchildren and one great granddaughter; two stepdaughters Karla MacMahon and Louise Turner, and five grandchildren survive him. Service and burial at Arlington National Cemetery will be on a date to be determined. In lieu of flowers, contributions may be made in his honor to the Wounded Warrior Project at www.woundedwarriorproject.org, or Alzheimer's Association at www.alz.org.
Admiral Houser entered the U.S. Naval Academy in 1938 and graduated with the Class of '42 in December '41. He was assigned to USS Nashville (CL-43) and served in the Pacific during the capture and defense of Guadalcanal, raids on Marcus and Wake Islands, and operations at Leyte and Luzon. He entered flight training in Feb '45, and was designated a naval aviator in March '46. From '46-'48 Bill served with VF-58 as Operations and Executive Officer, and in '48 flew the Navy's first jet, the FD-1 Phantom, for two months before leaving for duty with Navy staff in Washington, DC.
After a Mediterranean cruise as XO of VF-44, Admiral Houser returned to combat in Korea in '53 as Commanding Officer of VF-44 flying F4U-4 Corsairs from USS Boxer (CV-21) and USS Lake Champlain (CV-39). He was awarded the Bronze Star and two Air Medals for his heroic achievements in combat.
Admiral Houser served four tours in OpNav, two with the Joint Chiefs of Staff, one as Military Assistant to the Deputy Secretary of Defense, and one as a staff member of the Net Evaluation Sub-committee of the National Security Council during his illustrious career. Other significant assignments included VX-3 as Operations and Executive officer from '56-'58, where he participated in first fleet firings of new Sidewinder against live targets. After attending Naval War College he was Commanding Officer of VF-124, the west coast fleet replacement squadron for F8U Crusader and instrument training from '59-'60. He received a MS degree from George Washington University in '63, and completed the Advanced Management Program at Harvard University. Admiral Houser commanded USS Mauna Loa (AE-8) in '64. He deployed the first successful night and all-weather combat cruise for the A-6 as Commanding Officer, USS Constellation (CV-64) in '66. From '70-'72 he was Commander Carrier Division TWO where he made an emergency sortie in response to Jordanian crisis in '70, as well as two Mediterranean deployments.
Admiral Houser served from '72-'76 as Deputy Chief of Naval Operations (OP-05). The A-6E, MH-53, T-2B, and F-18 aircraft were started during this period, but in his judgment major accomplishment and most difficult was saving F-14 from its many detractors in the Congress, Office of the Secretary of Defense, and within various offices of the Navy. Bill retired in May 1976.
A few of his proudest accomplishments are: designation as a Naval Academy Distinguished Graduate in 2003, founder of the Midway Memorial Award, Annual Dinner and Foundation; Tailhooker of the Year in 1972, and his membership in The Golden Eagles.
A dynamic and highly effective spokesperson for naval aviation even after retirement, he was instrumental in getting some element of justice for Tailhook victims. A popular, gregarious leader and an accomplished aviator, he served with valor in WWII, Korea and Vietnam. He will be missed.
Sadly,
Bill Gureck, Pilot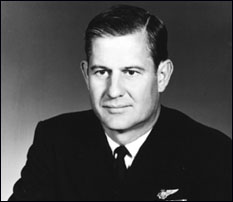 Dear Golden Eagles,

It is with sadness that I report to you that Captain William M. Russell, USN (Ret.) made his last take-off on February 22, 2012 in La Jolla, California. His wife Billie, his son Frederick, daughter Yavone Stephens and husband Spencer, son Fred Yannone and wife Gayle, six grandchildren, and eight great grandchildren survive him. His loyal dog "The Dude" also survives his master. A celebration of life will be held at the San Diego Aerospace Museum from 1630-1900 on March 18, 2012.

Captain Russell joined the navy from his native state of Texas and entered the U. S. Naval Academy in May '43. He graduated in June '46 and was assigned to USS Leyte (CV-32) where he served in several departments until '48. He reported to flight training and was designated a naval aviator in December '49. Bill served two years in the Naval Reserves before joining VF-22 in '52. He saw combat in Korea with VF-22 aboard USS Lake Champlain (CV-39), flying 25 combat missions in the F2H-2 Banshee. Bill was awarded the Bronze Star and two Air Medals for his heroic actions.

Bill graduated first in his class at Naval Test Pilot School in '56, and was assigned to the Armament Test Division at Naval Air Test Center, Patuxent River, MD from '56-'58. He performed development flight-testing of seven aircraft, including the A4D-1, F11F-1, F3H-2, and F8U-1. He was a Replacement Air Group instructor with VF-124 from '58-'60 flying the F8U Crusader. He attended the Naval War College, and then served as Executive Officer and Commanding Officer of VF-211 flying F-8's.

Bill attended Naval Postgraduate School in Monterey, CA and earned a Masters degree in Business Management in '64. He served in many demanding jobs, including as Personal Aide to the Vice Chief of Naval Operations, Air Boss and Navigator aboard USS Kitty Hawk (CVA-63), and the office of Research and Engineering on Secretary of Defense staff. He attended the Industrial College of the Armed Forces in '69-'70, and commanded USS Camden (AOE-2) in support of combat forces in the Gulf of Tonkin in '70-'71. He was awarded the Legion of Merit with combat V for his exemplary leadership.

CAPT Russell reported to Commander SEVENTH Fleet in '72 and was Assistant Chief of Staff for Operations. Bill served as Deputy Commander, Naval Air Test Center Patuxent River from '73-'76, retiring from this position in July '76.

Bill was an outstanding fighter pilot, test pilot, and a most capable and affable naval officer. He loved to fly and he amassed over 7000 hours in single-engine aircraft during his 30-year career. Always positive by nature, Bill inspired others to give their best efforts, and was a popular and respected shipmate.

CAPT Russell continued his passion for flying after retirement, and built and flew two Schroeder HP-18 -15 Meter Racing Sailplanes. He continued to fly his own aircraft until his better judgment told him it was time to retire from the cockpit. Proud of his Golden Eagles status, he was a friendly and active attendee at many annual reunions before his deteriorating health precluded further participation. He will be missed.

Sadly,

Bill Gureck, Pilot
NOTAM 4-2012 (Bloyer) Stan Bloyer's BIO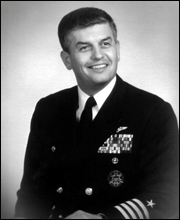 Dear Golden Eagles,
I am saddened to report that Captain Stanley F. Bloyer, USN (Ret.) made his last take-off on Thursday, March 15, 2012 in Fort Walton Beach, Florida. His wife Harma survives him. Arrangements for interment at the Barrancas National Cemetery aboard Naval Air Station Pensacola are still pending. Additional information will be promulgated when available.
CAPT Bloyer joined the navy in November1968 and was ordered to flight training. Upon completion he was designated a distinguished naval graduate, and was awarded his wings and commission in May 1970. He joined the Attack community and served in VA-46. He made two combat tours during the Vietnam war with VA-155, flying over 200 combat missions in '71-'73. Stan was Executive Officer, and then Commanding Officer of VA-83 from May '83 to April '86 making two Mediterranean cruises aboard USS Saratoga (CV-60). Stan planned and led a successful HARM missile strike against a Russian-manned SAM site in Libya during Operation El Dorado Canyon in April '86. He was Commander Air Wing SIX (Super CAG) from '91-'92 and played principal roles in Operations Provide Comfort and Desert Storm.
CAPT Bloyer was awarded the Distinguished Flying Cross, the Meritorious Service Medal, and 21 Air Medals for his heroic actions in combat.
Stan began flying a Cessna 180 as a teenager and never left that airplane. Following his retirement in '94, he offered flight instruction in vintage aircraft and flew a variety of former military aircraft for government and defense customers for test and training purposes. He owned and operated a Cessna and MIG-21.
Stan was well known in the northwest Florida area as an accomplished aviator and instructor who flew both helicopters and a wide variety of aircraft. A Golden Eagle since March 1, 2012, Stan was proud to have been selected and had already completed plans to attend the Orlando reunion. CAPT Bloyer was lost in a crash of a two-seat experimental aircraft (Emeraude) along with his buddy Don Marco, a retired Air Force Colonel. He will be missed.
Sadly,
Bill Gureck, Pilot
NOTAM 05-2012: MAJOR GENERAL JEREMIAH W. PEARSON, III, USMC, Ret.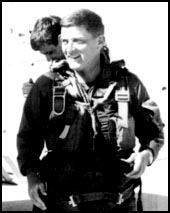 Dear Golden Eagles

I am very saddened to report that Major General Jed Pearson, USMC, (Ret) made his last take-off on 1 June 2012 at Mission Hospital, Mission Viejo California. He is survived by his wife, Patty, his son, Jeremiah Pearson IV, and daughters, Mary Ellen and Prudy, as well as by his three brothers and one sister. A memorial service and interment will be conducted at Arlington National Cemetery at a later date. Flight Leader West (Bob Hickey) will notify all concerned of any planned events or memorial tributes in honor of General Pearson.

General Pearson was commissioned a second lieutenant in the Marine Corps upon graduation from Georgia Institute of Technology with a Bachelor of Aeronautical Engineering in June 1960. He was designated a Naval Aviator in October 1961.

From November 1961 to July 1964, Jed was assigned to the 2d Marine Aircraft Wing, Beaufort, South Carolina. During his assignment there, Jed's first operational tour was aboard the USS Independence with VMA-324. During August 1964 he returned to Naval Air Station Meridian, Mississippi, remaining there through September 1965 as a flight instructor.

Upon graduation from the U.S. Naval Test Pilot School, Patuxent River, Maryland, in 1966, Jed was ordered to the Flight Test Division, where his assignments included the initial carrier trials and structural demonstrations of the F-4J aircraft. During this assignment he was elected as a member of the Society of Experimental Test Pilots. Ordered overseas in July 1968, he was assigned to the 1st Marine Aircraft Wing, DaNang, Vietnam, as the Maintenance Officer with VMFA-542. During this tour, Jed flew over 400 combat missions.

In September 1969 he was assigned to the Naval Missile Test Center at Point Mugu, California, where he served in Flight Test and was the project officer on the AWG-14 Radar and AIM-7F missile until January 1973. In June 1973, he reported to VMFA-232, where he served as the Maintenance Officer for thirteen months in the Western Pacific.

From September 1974 until June 1977, Jed was assigned to Headquarters Marine Corps, Washington, D.C. as the Aviation Plans Officer in the Office of the Deputy Chief of Staff for Aviation. While at Headquarters, he was nominated as a USMC Space Shuttle pilot.

He then commanded Headquarters and Maintenance Squadron 24, 1st Marine Amphibious Brigade, Marine Corps Air Station, Kaneohe Bay, Hawaii, for one year. From June 1978 to July 1981, he commanded VMFA-235. During the last year of this command, VMFA-235 won the Robert M. Hanson Award as the "Outstanding Fighter Squadron of the Year."

In May 1984, he assumed command of Marine Aircraft Group 11 after which he was promoted to brigadier general. Various staff and operational assignments followed including assignment as CG, 4th Marine Aircraft Wing and later as the Deputy Commander of Marine Central Command in Riyadh, Saudi Arabia during Operation Desert Shield/Storm. His last assignment in the Marine Corps was as Head of America's Manned Space Flight program at NASA. He supervised 19 successful Space Shuttle missions including the first Hubble Space Telescope repair mission. His responsibilities included operations, safety, personnel, logistics and budgeting for all matters related to the manned space flight program. After retirement from the Marine Corps, General Pearson remained as the Head of Manned Space Flight for three years, and for his service in this assignment he was awarded the NASA Distinguished Service Medal and the NASA Outstanding Leadership Medal.

Jed was a very private person, a man of few words, but the one characteristic that was evident to all was that he loved to fly, and he was good at it. He had a passion for testing airplanes and taking them to the edge of the envelope. He was extremely proud to be a Golden Eagle and an Associate Fellow in the Society for Experimental Test Pilots. A high point in his flying career was his tour as Commanding Officer, VMFA-235 which he commanded for four years.

He was a man's man who thoroughly enjoyed a high spirited Happy Hour with his squadron mates or working on old sports cars. He had a very deep commitment to the Marine Corps and was very confident in his abilities to lead both on the ground and in the air. He was a charismatic officer who was highly respected by juniors and seniors alike. He will be missed.

In sadness,

Fred Lewis, Pilot
NOTAM 06-2012: Rear Admiral James D. " Jig Dog " Ramage, USN ( Ret )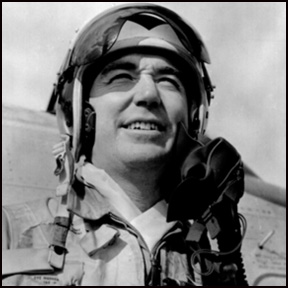 It is with sadness that I report to you that another of our WW II combat leaders, Rear Admiral James D. "Jig Dog" Ramage, USN ( Ret ), made his last take-off on 21 July 2012 at the age of 96 in Coronado, California. He is survived by his two daughters, Jaleen Edwards and Jamie Franzman, along with his stepdaughter Karen Cordes, four grandchildren and four great grandchildren. Information relative to funeral Services will be passed by separate correspondence.
RADM Ramage grew up near Waterloo, Iowa, and for a brief time he attended what is now the University of Northern Iowa prior to being admitted to the US Naval Academy. Following graduation in 1939 he served aboard USS Enterprise ( CV-6 ) as a member of ship's company prior to commencing flight training and designation as a Naval Aviator on 19 March 1942. After he received his wings, he returned to the USS Enterprise and participated in eleven combat actions during WW II most notably the Battle of the Philippine Sea in 1944. Aboard Enterprise he served as XO and CO of Bombing Squadron 10 which was one of the last two carrier based SBD Dauntless squadrons as the other five " big deck " carriers began using the SBDC-1 Helldiver. On the evening of 20 June 1944 RADM Ramage led 12 Dauntlesses with 17 other Enterprise aircraft on a max range attack on the Japanese fleet. He was personally credited with crippling a Japanese carrier, and only one aircraft in the strike group was lost ( the crew was rescued ). For this action he was awarded the Navy Cross. His other awards included the DSM, four LoM' s, three DFC' s, seven Air Medals and numerous campaign ribbons. His last wartime assignment was as CO of Bombing Squadron VB-98, a California-based training unit.
Following the war he attended the Naval War College, served as navigator of the escort carrier Bairoko ( CVE-115 ), and on the staff of ComAirPac. In the 1950's he was with the Armed Forces Special Weapons Project, commanded Carrier Air Group 19 and Fleet Composite Squadron Three, served in the pentagon in OP-50W, was a student at the National War College, and commanded Heavy Attack Wing One as the Navy built up its nuclear strike capability. In the early 1960's RADM Ramage commanded the seaplane tender Salisbury Sound( AV-13 ), served as head of Special Weapons Plans on the OPNAV staff, commanded the USS Independence ( CVA-62 ), served on the staff of Joint Task Force Two which tested low altitude bombing alternatives, and was Chief of Staff to Commander Task Force 77 during the Vietnam War. As a flag officer he was Commander Fleet Air Whidbey, Deputy Chief of Staff for Plans and Operations on the staff of CinCPacFlt, Commander Carrier Division Seven, Commander Naval Air Reserve, and Commander Tenth Naval District/ Caribbean Sea Frontier. He retired from active duty in 1975.
In retirement, RADM Ramage was a major force in the support of Naval Aviation through his active participation in the Golden Eagles, the Tailhook Association, the Association of Naval Aviation, and the Naval Aviation Museum Foundation. He clearly understood the value that these organizations provide for preserving the heritage and legacy of Naval Aviation. In recognition of his strong support as a senior adviser for many years the Tailhook Association established the annual " Jig Dog Ramage Award " to recognize the air wing-aircraft carrier team with the best performance as an integrated unit in carrier operations. Further, in recognition of his achievements in Naval Aviation he was inducted into the Naval Aviation Hall of Honor by the Naval Aviation Museum Foundation in 2008.

RADM Ramage was a dynamic and charismatic leader who leaves for us a legacy of commitment and devotion to duty, hallmarks of the Greatest Generation. He will be missed.
In sadness,
Fred Lewis, Pilot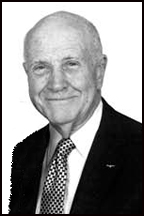 Dear Golden Eagles,

I am very saddened to report that Rear Admiral J. L. "Doc" Abbot died at Goodwin House, Alexandria, VA, on Friday, August 10, 2012, age 94. He is survived by his sons, Captain J. Lloyd Abbot, III, USN (Ret), and Admiral Steve Abbot, USN (Ret), both Naval Aviators, their spouses, and five grandchildren, two of whom are Naval Aviators. His funeral service is scheduled for 10:30 am, Wednesday, September 26, at the U. S. Naval Academy Chapel, followed by burial in the Naval Academy Cemetery, and a reception in the Bo Coppedge Room of Alumni Hall.
RADM Abbot was born in Mobile, AL, on June 26, 1918, son of James Lloyd Abbot and Helen Taylor Abbot. After graduating from Murphy High School, and spending a single year at Spring Hill College in Mobile, he entered the U. S. Naval Academy with the Class of 1939. In June 1939, he was commissioned Ensign, U. S. Navy, and assigned to USS Gilmer (DD-233) in Norfolk, VA. There, he met Marjorie Grubbs, daughter of Charles and Dorothy Grubbs. They were married on June 21, 1941, in Mobile, AL, while he was in flight training. Assigned to the Pacific Theater during World War II, he flew in the Island Campaign from 1942 to 1944, operating from Wallis, Apamama and Funafuti Islands, flying the OS2U Kingfisher and the SBD Dauntless. He was Commanding Officer of VS-66 as a Lieutenant from Mar 1943 – March 1944. Following the war he transitioned to the F4U Corsair, and commanded the Green Pawns of VF-42 assigned to the Franklin D Roosevelt in the Atlantic and Mediterranean. Subsequent operational commands included VU-4, USS Valcour (AVP-55), and USS Intrepid (CVA-11). Selected to flag rank in 1966, he was assigned as Commander of the U. S. Naval Antarctic Support Force, operating half of the year from Christchurch, New Zealand, and flying the ski equipped C-130 Hercules onto the ice at McMurdo Sound Station. His November 1967 article in National Geographic magazine chronicles the challenges of night operations on the Antarctic continent. The Abbot Ice Shelf is named in his honor. Subsequent flag posts included Commander, Carrier Division SIXTEEN, and Inspector General, U. S. Atlantic Fleet.
RADM Abbot retired to Mobile, AL, in 1974, and remained active in civic and fraternal organizations, serving on the boards of the USS Alabama Commission, the Retired Officers Association, the Naval Institute, the Museum of Naval Aviation Foundation, the Naval Academy Alumni Association and the Mobile Chamber of Commerce. On November 11, 2011, he was named "Patriot of the Year" by the Mobile Chamber of Commerce. Continuing his lifelong love of aviation, he was an enthusiastic general aviation pilot, flying his Cirrus SR-20 named "Vacalele" to destinations such as the Tailhook Convention in Reno, NV, the Cayman and Bahamas Islands, Oshkosh and the FBO at Bay Minette for cheap gas. His last landing in May 2012, was a coupled ILS to a "squeaker" at Bates Field in Mobile. He developed a well deserved reputation as an entertaining speaker, and was continuously in demand for his series of educational lectures entitled "Special Training for Fighter Pilots" which included "Swiv" and "Moses in the Promised Land." He is predeceased by Marjorie Grubbs Abbot, and his beloved daughter, Maro, and by his second wife Margaret White Abbot, a Murphy High schoolmate, whom he married after Marjorie died in 1974.
" Doc " Abbot never wavered in his full time commitment to the Tailhook Association and to the Golden Eagles. He had already made his reservations for Hook 2012 in Reno, lined up his family foursome for the Hook Golf Tournament, and was looking forward to joining the Golden Eagles for our Reunion in Scottsdale. Another of the Greatest Generation has made his Last Take-Off. He will be missed.
In sadness,
Fred Lewis, Pilot
( With grateful appreciation to ADM Steve Abbot for his assistance in the preparation of this NOTAM ).

Neil Alden Armstrong

Dear Golden Eagles,
It is my sad duty to report that Mr.Neil Armstrong made his Last take-Off on 25 August 2012 at the age of 82 in Cincinnati, Ohio. He is survived by his wife, Carol, and his two sons, Eric and Mark, two stepchildren, his brother and sister, and ten grandchildren. Details of funeral arrangements and memorial activities will be sent by separate correspondence.
Neil' s background, his life, aeronautical achievements, and career as an astronaut are well documented in numerous books, articles and papers, and constitute the stuff of legend, for legendary he was. It would be difficult to identify a contemporary American who had achieved so much in his lifetime as Neil Armstrong nor one who had ascended the heights of global fame and recognition that accompanied his remarkable successes. In spite of all that, he remained a humble man and used his fame not for personal gain but to help his fellow man.
He was born in 1930 in Wapakoneta, Ohio, grew up there, and developed an avid interest in aviation at an early age, attaining his pilot license at 15 before he received his driver' s license. He studied aerospace engineering at Purdue University via a Navy scholarship program, and, after two years at Purdue, was called to active service by the Navy in 1949, and reported to Pensacola for flight training. He received his wings 18 months later reporting to Fleet Aircraft Service Squadron 7 at NAS North Island. Two months later, he was assigned to Fighter Squadron 51 (VF-51), an all-jet squadron, and made his first flight in a jet, an F9F-2B Panther, on January 5, 1951. In June, he made his first jet carrier landing on the USS Essex and was promoted the same week from midshipman to Ensign. By the end of the month, the Essex had set sail with VF-51 aboard bound for Korea, where they would operate as a ground-attack squadron.
Neil first saw action in the Korean War on August 29, 1951, as an escort for a photo reconnaissance aircraft over Songjin. On September 3, 1951, Neil flew armed reconnaissance over the primary transportation and storage facilities south of the village of Majon-ni, west of Wonsan. While he was making a low altitude bombing attack, Neil's F9F Panther was hit by anti-aircraft fire. While trying to regain control, he collided with a pole at a height of about 20 feet, which sliced off an estimated three feet of the Panther's right wing.
Neil was able to fly his aircraft back to friendly territory, but due to the loss of the right aileron, ejection was his only safe option. He planned to eject over water and await rescue by Navy helicopters, so he flew toward an airfield near the coast, ejected over water, but after his ejection was blown back over land. A jeep driven by a roommate from flight school picked him up; it is unknown what happened to the wreckage of his F9F.
Neil flew 78 missions over Korea for a total of 121 hours of combat time, most of which were in January 1952. He received the Air Medal for 20 combat missions, a Gold Star for the next 20, and the Korean Service Medal. Neil left the Navy at the age of 22 on August 23, 1952, was promoted to Lt ( jg ), United States Naval Reserve, and returned to Purdue to complete his studies.
Following graduation from Purdue, Neil was accepted as an Engineering Test Pilot with NACA ( NASA' s precursor ) and over the years was involved in numerous highly demanding leading edge flight test programs including high altitude testing in the X-15 in which he completed seven missions. In 1962 he was selected for NASA' s Astronaut Corps, commanded Gemini 8 in 1966, was the back-up commander for Apollo 8, and in March 1969 was selected to be the first person on the moon as a member of the crew of Apollo 11. An everlasting moment witnessed on TV by millions around the world occurred when Neil set his left boot on the lunar surface at 2:56 UTC July 21, 1969. From that moment on his name was forever chiseled into the historical record of Great Americans.
Following his retirement from NASA in 1971, Neil led a very active life as a college professor, served on two Presidential Commissions, worked for several large corporations, and continued to receive praise and recognition for his heroic efforts during the first moon landing. His awards included the Presidential Medal of Freedom, the Congressional Space Medal of Honor, the Robert H. Goddard Memorial Trophy, the Sylvanus Thayer Award, the Collier trophy, and the Congressional Gold Medal. Throughout the US there are more than a dozen schools named in his honor, and many places around the world have streets and buildings named for him. Other awards and other forms of recognition seemed to abound as his fellow citizens continued to honor him for his achievements throughout his life. But there was one symbol of achievement that he held above all others.
In 2010 aboard USS Eisenhower a ceremony took place to present Neil with his Naval Astronaut wings. After accepting those, he responded in his own humble and unassuming way with the following words:
"I take these wings with great pleasure and great pride. I have made certain achievements in my life and been recognized many times, but there is no achievement I value more highly than when I received my wings of gold; to be given a second pair of gold wings is just as special."
Neil Armstrong : Naval Aviator, combat veteran, aerospace engineer, Astronaut, space explorer, teacher, corporate executive, and Golden Eagle. A man of humble origins, who realized his dreams and showed what Americans are capable of achieving, has made his Last Take-Off.
He will be missed.

Fred Lewis, Pilot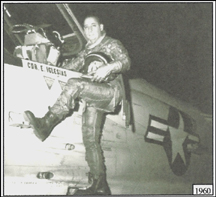 CAPTAIN Edward Iglesias, USN, (Ret)

Golden Eagle Emeritus

Dear Golden Eagles,

It is my sad duty to report that CAPT Edward Iglesias, USN, (Ret) made his Last Take-Off on 25 July 2012 at his home in San Clemente, CA at the age of 91. In keeping with his wishes his family conducted a private ceremony of interment at Fort Rosecrans National Cemetery on 6 August 2012. He is survived by his wife Nancy; sons George and Timothy Iglesias and Andrew Johnson; his daughters Anne Feldman, Patricia McDonnell, Kay Field, Kimberly Gonzales, and Juliet Chase; and by 9 grandchildren and 2 great-grandchildren.

CAPT Iglesias was one of eleven children of Santiago Iglesias, a noted Puerto Rican politician and labor organizer who served as the Puerto Rican Resident Commissioner in the House of Representatives from 1933 to 1939. Thus, it was in Washington, DC that Ed spent most of his formative years. Ed was inspired to seek a career in aviation in 1928 after seeing Charles Lindbergh fly over San Juan, Puerto Rico as part of a goodwill tour following his solo flight to Paris.

After the outbreak of WWII, Ed began flight training in 1943 and received his wings of gold in 1944. He was then assigned to VF 47 flying F6F' s embarked on the USS Bataan ( CVL 29) for combat operations in the Pacific. It was during the period from March through May 1945 that he was credited with four air-to-air kills ( two Zeke's and two Tojo's ) while destroying fifteen enemy aircraft on the ground. Just prior to the conclusion of hostilities he flew missions over Japan dropping supplies to American prisoners of war. He also participated in the fly-over of the USS Missouri in Tokyo Bay when the Japanese formally surrendered to the Allies. For his superb combat performance he was awarded the DFC and six Air Medals.

Following the war, Ed served in the Latin American Flight Training Program as an instructor in various aircraft including the R4D and the R5D. This tour was followed by other training assignments until 1953 when he was assigned to VF 84 flying the F9F5 embarked on the USS Champlain. He then had his first ship' s company tour as part of the Commissioning Crew for the USS Forrestal (CVA 59) in 1957. He returned to the training world as first a flight instructor in Corpus Christi and then as part of the staff of the Advanced Training Command. Orders to the Naval War College followed. After successful completion of the course of curriculum in 1960, he was assigned as Commanding Officer of VF 103 flying the F8U2 embarked on the USS Forrestal ( CVA 59 ). He was then selected to command VF 174, the F8 RAG at NAS Cecil Field which he led successfully from 1962-1963. A follow on tour at the Naval War College was next which preceded his next tour with the staff of CARDIV TWO from 1965-1967. He was then screened for deep draft command and took command of the USS Pictor ( AF54 ) in 1967 where the ship operated in the Pacific Theater in support of operations in the Viet Nam War. His final tour on active duty was with the Chief of Naval Aviation Basic Training in Pensacola where he retired in 1969.

Following retirement, Ed had a very active and adventurous career as an Aviation Consultant, Aircraft Accident Investigator, and Aviation Insurance Adjuster. He worked from his Los Angeles base and operated in Central and South America and Mexico investigating general aviation accidents and retrieving damaged or stolen aircraft, which had been used in the drug trade, from remote dirt airstrips. During this sixteen year second career, he flew a wide variety of different aircraft types and added considerable flight time to an already impressive record of flying achievement. He flew his last flight on 12 July 1987 and capped off a flying career which included 14,098 flight hours and 752 carrier arrested landings.

Ed was a man of great humility who led from the cockpit. He was greatly admired by seniors and juniors for his exceptional piloting skills, and he was extremely proud of his selection to the Golden Eagles in 2004. We have lost another member of the Greatest Generation. He will be missed.

Sadly,

Fred Lewis-Pilot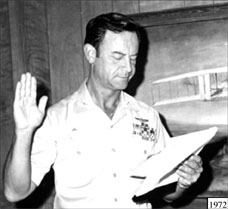 Rear Admiral Owen H. Oberg, USN, ( Ret ) - Golden Eagle Emeritus

Dear Golden Eagles,

It is my sad duty to report to you that RADM Owen H. Oberg made his Last Take-Off on 23 October 2012 in El Cajon, CA at the age of 87. He is survived by his wife, Margaret, sons Owen and Michael, and daughters, Sandra and Elizabeth, and by eight grandchildren. His interment occurred on 26 October 2012 at the Miramar National Cemetery in San Diego, CA. The family requests that gestures of remembrance be manifested in contributions to the Tailhook Education Foundation.

RADM Oberg, a Massachusetts native, was born in 1925 and entered the Naval Aviation Cadet Program from Holy Cross College in 1944. He received his wings and his commission in 1946. After operational training in torpedo bombers, he served a two and one half year tour in VJ-16, a utility squadron based in Guantanamo Bay, Cuba followed by a two year flight instructor tour in Pensacola. In 1951 he reported to the Red Rippers of VF-11 flying the F2H Banshee at NAS Jacksonville. The squadron subsequently deployed on USS Kearsarge to the Sea of Japan for operations in support of combat ops in Korea. After his seventy mission combat tour with VF-11, he was detailed to the USAF for an exchange assignment with the 437th Fighter Interceptor Squadron at Otis AFB.

Orders to test pilot school followed in 1954 followed by service as a test pilot at NATC, Patuxent River, MD, then attendance at Stanford University for completion of his undergraduate studies in 1957 and subsequent assignment to VX-3, where he was the Sidewinder missile Project Officer. While serving as a staff officer at COMNAVAIRLANT, he screened for aviation command and in 1962/63 served as XO/ CO of VF-41 embarked on USS Independence. RADM Oberg then served as the Air Boss on the USS Forrestal which led to his 1965 assignment as Commander, Carrier Air Wing EIGHT embarked on USS Forrestal and USS Shangri La. Follow on tours of duty at the National War College and as CO, USS Caliente (AO-53) preceded his subsequent assignment as CO, USS Kitty hawk ( CVA-63 ) in 1971. A staff tour in Saigon in 1972 followed with a subsequent assignment as Commander, Carrier Group SEVEN in 1973. He then reported to Pacific Fleet Headquarters in 1975 where he later acted as the Commander's representative in Saigon during Operation "Frequent Wind," the evacuation of South Vietnam.

RADM Oberg completed his tour at Pacific Fleet Headquarters and retired from active service in 1977 to pursue a career in industry first with the Hughes Aircraft Company in Los Angeles and then with the Cubic Corporation in San Diego. He retired from this second career in the private sector in 1987 and settled into retirement in Pauma Valley, CA.

RADM Oberg or "Obie "as he was better and more affectionately known was a dynamic and charismatic leader. He was the kind of leader and role model around whom junior officers would rally to learn about Naval Aviation and to savor his real deck plate leadership. I can attest first hand to the sway he held over junior officers because he was my first CAG when he led Air Wing EIGHT in superlative fashion both in the air and ashore. He was the kind of leader whom more senior officers admired and envied for his style. "Obie" served admirably in two wars and was given some of the toughest assignments in all of which he thrived. For his service to the Navy and to the Nation he was awarded the Bronze Star and three Air medals. He will be missed.

Sadly,

Fred Lewis-Pilot
---